We're thrilled to share the highlights from our recent event that took place on October 28, 2023. This event featured Stefan Shipinkoski and Miodrag Cekikj as they delved into the groundbreaking world of API testing and explored the incredible potential of combining RAG (Retrieval Augmented Generation) and Azure OpenAI Cognitive Services.
Recap of Our Past Event:
Stefan Shipinkoski At the event, we had the privilege of hearing from Stefan Shipinkoski, a Data Science Consultant and a prominent member of the IWConnect team. Stefan's presentation was a testament to his in-depth knowledge of computer science and his impressive track record in developing cutting-edge solutions. In addition to his professional accomplishments, Stefan is currently pursuing a Master's degree at the Faculty of Electrical Engineering and Information Technologies (FEIT), specializing in Data Science. His academic journey is marked by a profound commitment to exploring the dynamic fields of Artificial Intelligence (AI), Machine Learning (ML), and Large Language Models (LLMs).
Miodrag Cekikj Miodrag Cekikj, an R&D Lead Technical Consultant at ⋮IWConnect, also shared his insights during the event. Miodrag's expertise in software engineering, combined with his PhD in bioengineering, provided a unique perspective on the application of Machine Learning (ML) and Artificial Intelligence (AI) across various industries. He is deeply engaged in the world of Large Language Models (LLMs) and the exciting domain of Generative AI. His passion for innovation and driving progress in the tech landscape was evident in his presentation.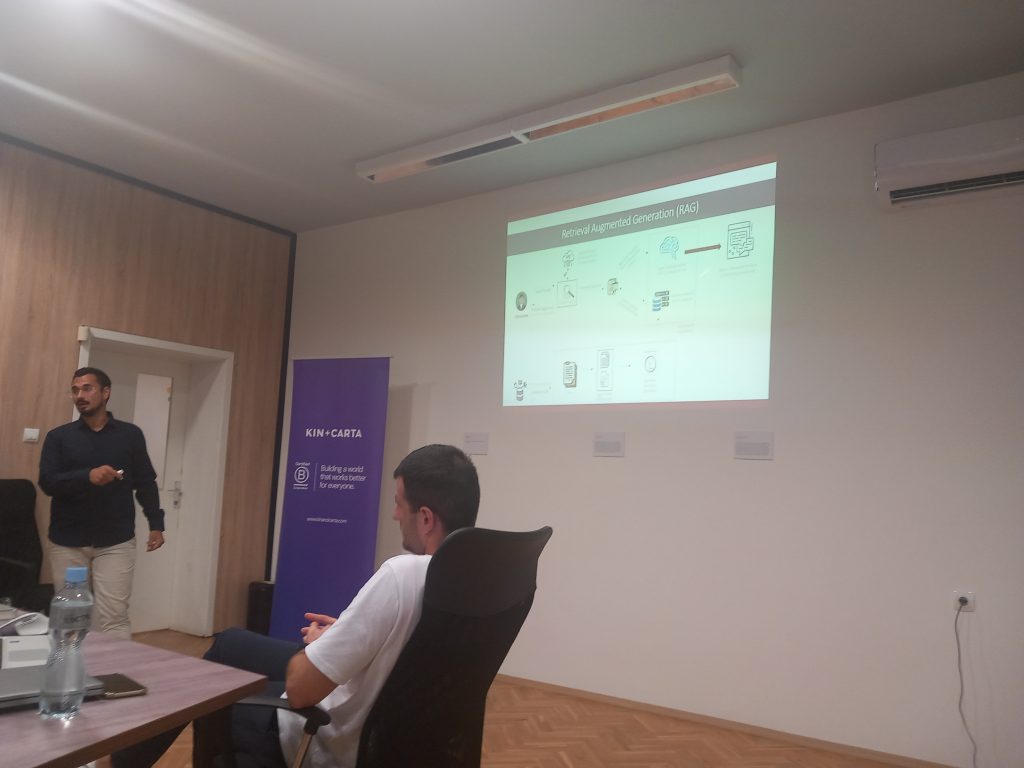 Event Highlights:
During the event, attendees had the opportunity to:
Gain a comprehensive understanding of RAG and Azure OpenAI Cognitive Services.
Explore practical ways to implement these technologies in API testing and quality assurance.
Hear real-world examples and success stories.
Receive insights into the future of API testing and the latest technological advancements in the field.
Connect and network with fellow professionals and tech enthusiasts.
The event on October 28, 2023, was a resounding success, leaving participants inspired and equipped with knowledge about the transformative potential of RAG and Azure OpenAI Cognitive Services in API testing. We look forward to future events that will continue to push the boundaries of technology and knowledge.